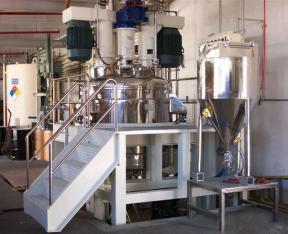 Industrial Mixers and Industrial Valves
There are thousands of Industrial mixers and valves available from many manufacturers around the globe. ABLE ASIA-AMERICA has taken the best designs and features and improved them to deliver the best in Industrial mixer and Industrial valve technology at a price that your company can afford.
Our standard features on our Industrial mixers and valves are sold as options by other well-known brands. Our improved design and manufacturing methods result in lower manufactured costs, which is passed on to you, the end user.
Standard features include one point electrical connection, Stainless Steel Planetary Gear Box, Control package, 240 grit polish on internal parts, electro-hydraulic lift, Sight and Charge Ports and Vacuum Pumps on Vacuum design models.
MIXING PATTERNS
The mixing pattern of a planetary mixer provides a homogeneous mix in most cases in the first five minuets of mixing. Our optional blade choice, allows the customer to order the best blade design and combination for their process.
ABLE CUSTOM MANUFACTURING
We accept drawings and designs from clients to make parts or complete mixers to match their existing equipment.